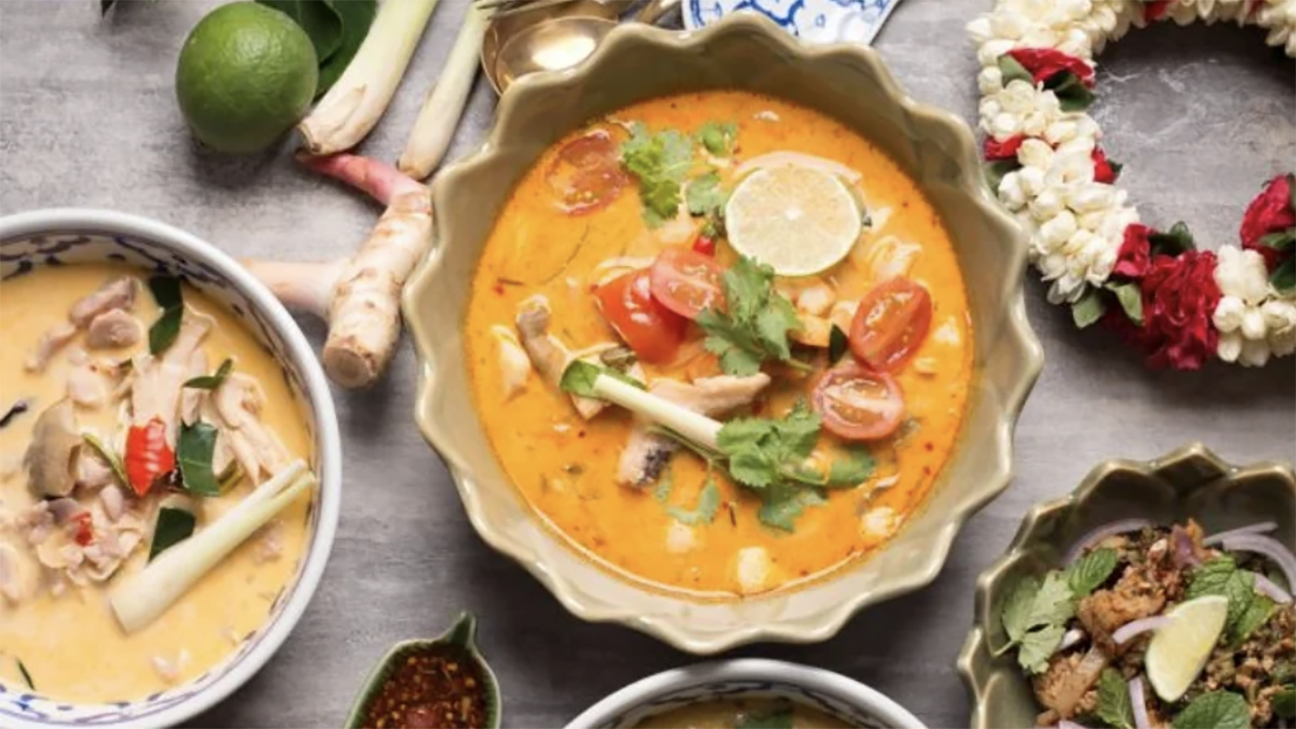 At this point in time, no one can argue that Thai food is anything other than one of the world's great cuisines. Since Thai restaurants became fixtures in Los Angeles in the 1980s, the speed at which North Americans acquired a taste for tom yam (shrimp soup), pad Thai, som tam (green papaya salad), and green curry is remarkable. They've become naturalized in America and yet, despite familiarity, making Thai food at home can be daunting for a lot of cooks.
In part it's the unfamiliarity with the ingredients of Thai cooking. Though tamarind, canned curry pastes, fish sauce, rice noodles, and even fresh lime leaves are pretty widely available in non-Thai markets, knowing the cooking techniques and how to orchestrate a successful dish can be an obscure proposition.
Another obstacle: having an authentic point of reference. If you've been to Thailand, you'll know at least a few dishes firsthand, dishes that probably left such an impression they'll help inform your own attempts at Thai cooking. If you've never been to Thailand, you'll probably have to rely on North American Thai restaurants to teach you things like flavor balance, level of spicing, and simple context—how individual dishes are served within a meal, or eaten solo, as snacks.
A Regional Primer
Thai food has four main regions: Central, Northeastern (Isaan), Northern, and Southern.
Central
Thai cooking radiates from Bangkok, encompassing the plains of the central rice-growing heartland. Naturally, this is where the refined court cooking of the ancient Thai kingdoms of Ayutthaya and Sukhothai.
Northeastern (Isaan)
cooking shares much with southern Laos, just across the Mekong River, with elements of Vietnamese and Khmer cuisine, the latter from nearby Cambodia.
Northern
food encompasses the relatively cool, lush valleys and mountains of the highlands, centered around Chiang Mai and Chiang Rai. It shares elements with Shan State in Burma, northern Laos, and China's Yunnan Province.
Southern
food exists on the narrow Kra Isthmus, with shared elements of Malaysian, Indian, and Indonesian cuisine, including coconut milk and fresh turmeric.
China's Influence on Thai Food
A huge group of Thai dishes are adaptations of Chinese ones. Hokkien immigrants started arriving in the 15th century; later, a Thai Chinese community started coalescing around Teochew immigrants. Wok cooking is the gift of Chinese cooks. So is deep-frying, many noodle dishes (eaten with chopsticks), soy sauce, and the fermented bean paste called taochiao. The typical Thai breakfast chok, or rice porridge, has Chinese roots, as do many other dishes.
Enter the Chile
Although it's hard to believe now that chiles are deeply fixed in the Thai culinary imagination (and palate), they were only introduced in the 16th and 17th centuries from the Spanish and Portuguese, who adopted them from Central America. Also from the Americas: pumpkin, peanuts, pineapple, eggplant, papayas, and tomatoes.
Thai Street Food
"There are two distinct parts to the Thai culinary repertoire," writes David Thompson in "Thai Street Food." "Firstly, there is food eaten with rice (arharn gap hkao), which forms the basis of the meal proper. This encompasses the largest variety of Thai cooking: salads, curries, soups and relishes, all of which are eaten with rice, the heart of the meal.… The other main component is single-plate food (arharn jarn dtiaw), which is literally just that, with the dish normally plated in individual portions.… Originating in the markets and then later finding its way onto the streets…, these noodles, pastries and other complex desserts, and deep-fried and braised dishes are unlikely to be prepared at home."
Bangkok offers an overwhelming array of street foods, everywhere in the city, at all hours of the day. From early-morning breakfast to snacks and more substantial bowls and plates, it's an open-air banquet of incredible variety and quality. Some dishes are pretty much only found on the street; others are street-stall versions of the food cooked up in Thai homes.
Many of the best dishes on Thai streets are stir-fries: fast curries, or minced pork or chicken with basil leaves, served with rice.
Thai-Chinese noodle soups are ubiquitous on the street. So are fried noodles and fermented Thai rice noodles (khanom chin). Vendors pound and macerate som tam (green papaya salad). Sweet roti stuffed with banana or egg. Khanom, sweets and snacks, are popular: coconut cream jelly (tako), cassava cake (khanom wun).
At night, Thai street food blooms. The class of snacks known as "drinking food" (kap klaem) includes skewered meats like chicken satay, sausages, and dried squid. Salapao, Thai-Chinese steamed buns filled with sweet beans or meat, come out. Night markets bristle with food stalls, offering hoi tod (crispy mung flour pancakes with mussels) and boat noodles, the broth enriched with beef blood—a great dish to sober up with for the trek home to bed.
Are Thai Curries Supposed to Be Sweet?
Order from nearly any Thai restaurant in America and you'll be faced with a rainbow list of curries (green, yellow, red) with customizable proteins (shrimp, chicken, beef, pork, tofu). And more likely than not, the coconut milk broth in that curry will be sweet—as in, added-sugar sweet. Lots of added sugar. Is this how they're supposed to be? Are curries in Thailand this sweet, or is this some adaptation for American tastes?
First, let's back up and consider the principles of Thai seasoning. The concept of balance is crucial in Thai cooking. Texture, color, appearance, as well as the flavor balance: sour, sweet, salty, bitter, and spicy —nothing should be out of alignment. "Thai food… [is] about the juggling of disparate elements to create a harmonious finish," writes David Thompson.
And, while you can taste curries in Thailand as sweet (or nearly so) as their American cousins, the topline answer here is no: Thai curries are not supposed to be sugary-sweet. Sweetness is an element, but it should exist in balance, not dominating, never taking over. So tell your curry cook to tone down the sweetness, please.
Essential Thai Cookbooks
Trust these five Thai cookbooks to steer you to the real deal: ingredients, techniques, and flavor.
Still a No. 1 bestseller after its publication in 2014, this cookbook by the author of the She Simmers blog (and a Bangkok native) is full of recipes for classic Thai fare, from family dishes and street food staples to iconic Thai restaurant staples.
Don't take it from us: "Reaching beyond my comfort zone of store-bought curry pastes and simple soups brought a new level of confidence and understanding of the powerful but balanced flavors of Thai cuisine," writes Coco Mirante at The Kitchn, "and I look forward to making more recipes from this book."
From the owner of the beloved Portland, Ore. restaurant of the same name, the Pok Pok cookbook was built on decades of travel throughout Thailand and intense study of the cuisine. You'll find over 50 recipes from the restaurant and from Thailand, including the classic curry noodle soup khao soi and the much-hyped (rightly so) fish sauce wings that became an instant hallmark of Andy Ricker's empire.
Don't take it from us: "Pok Pok is one of the most exciting ethnic cookbooks to come out in the past few years," writes Kate Williams at Serious Eats, "and one of the first since David Thompson's Thai Food to fully commit to a hands-on, no substitutions manner of cooking."
This tome is by another outsider with a true passion for Thailand's food (and other aspects of its culture). The focus is on street food from pork satay to sweet banana roti, and the recipes are accompanied by snapshots of the vibrant market scene.
Don't take it from us: "Renowned Australian chef and Thai-food expert David Thompson offers a hunger-inspiring tour of the outdoor markets and food stalls of Thailand," writes Kimberly Masibay in Fine Cooking. "The evocative photos and recipes for noodles, curries, satays, salads, roasted meats, and more capture the daily rhythms, bright flavors, and bustling spirit of Bangkok's streets, and will appeal to anyone with a love for Thai cuisine."
From the chef of LA's Night + Market, this book charts a journey from Thai-American restaurant food to traditional Thai country cooking, and examines what exactly authenticity means. It also showcases Yenbamroong's signature style of cooking, with recipes that are distinctly Thai, but also distinctly Night + Market. One of the core goals of the book is to simplify complex recipes to "wring maximum flavor out of minimum hassle." That includes dynamite dishes like crispy rice salad, spicy salmon ceviche, and wok-seared noodles.
Don't take it from us: "I fell in love with Night + Market quickly," writes Sarah Micheller Gellar (yes, Buffy reviewed this book for Food52's 2018 Piglet competition). "It's a dance through a personalized version of Thai cuisine and the photos are authentic, warm, and inviting. The recipes absolutely delivered and, better yet, empowered me to step outside my comfort zone. But the best thing about this book is the way its food made me and my family feel. As we sat down and ate, the moment felt livelier, the flavors more exciting, and the memories unforgettable.
From the chef behind the Hot Thai Kitchen blog and the popular Pailin's Kitchen YouTube channel, this book draws on the author's lived culinary experience since childhood and her Cordon Bleu education to help demystify Thai cuisine for all home cooks. Along with recipes (many of which include QR codes you can scan to go to the relevant YouTube video for an in-depth demo), you'll get a beautifully photographed tour of Thailand and a solid foundational understanding of key traditions, techniques, ingredients, and flavors.
Don't take it from us: Multiple reviewers mention their appreciation of the suggestions for substitutions for hard-to-find ingredients; from Cookery Nation: "I think the main thing that pushed me forward was Pailin's comforting tone and assurance that making substitutions was perfectly ok. She explained the purpose of each ingredient and allowed me to experiment and explore the flavours and textures."
Easy Thai Recipes for Beginners
Try these threshold dishes to start your journey into the cuisine.
Simple dumplings of seasoned ground pork grace this typical Thai breakfast bowl, with an easy rice porridge that takes less than half an hour to cook. Get our Thai Rice Congee recipe.
A one-pot dish of sweet winter squash, green bell pepper, and aromatics simmered in a creamy coconut–Thai red curry sauce. Get our Thai Red Curry with Kabocha Squash recipe.
Stir-fried noodles and the four Thai flavors of salty, sweet, sour, and spicy are the forefront of our version of Thailand's national dish, popular at street stalls all over the country. Get our Pad Thai recipe.
You might not think about pulling out the slow cooker to cook a Thai dish, but these bone-in chicken thighs become incredibly tender and flavorful in a rich curry of coconut milk with green curry paste, fish sauce, and lime. Get our Thai Green Curry Chicken Thighs recipe.
A quick-to-make Thai rice noodle dish with Chinese roots. It combines ground chicken, bell peppers, and Thai basil in a sauce containing oyster sauce, Thai fish sauce, and lime juice. Get our Pad Kee Mao recipe.
A meatless version of the popular stir-fried Thai rice-noodle dish, with cubes of tofu and easy-to-prep broccolini. The sauce contains no fish sauce, but combines soy sauce, garlic, and brown sugar. Get our Vegetarian Pad See Ew recipe.
Tiny threaded skewers of chicken satay are a street-food snack in Thailand. In this Western adaptation, the chicken pieces have grown to acceptable U.S. snack size, but the taste—and the peanut dipping sauce—are no less Thai. Get our Chicken Satay with Spicy Peanut Sauce recipe.
In this simple home-style curry, Chinese or Japanese eggplant simmers in a coconut-milk curry with lemongrass, cilantro, fresh chiles, ginger, shallots, and turmeric, which gives the whole dish a rich golden glow. Get our Eggplant Curry with Lemongrass and Coconut Milk recipe.
This content was originally published here.