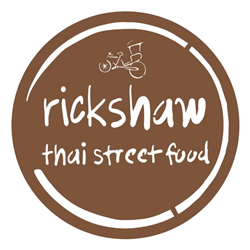 ALPHARETTA, Ga. (PRWEB)
November 11, 2021
Authentic Thai street food is now available just off the streets of Alpharetta!
From the aroma-filled food markets of Bangkok, Rickshaw Thai Street Food offers the magic of Thailand's best street food. Housed in a two-story building, diners will have a choice of casual dining indoors or capturing that outdoor eating experience on a rooftop deck.
Longtime restaurant entrepreneur Paul Yuwachit, already a mainstay of the Alpharetta dining scene with the former Twisted Taco restaurant, has reinvented the same space with Rickshaw's large menu offerings that will bring the spice of Southeast Asian living and dining to Alpharetta patrons.
Yuwachit, who grew up in Thailand, is well-experienced at bringing the tastes and ambiance that he so loved as a child to the U.S. He has been a co-owner of East Atlanta Village Thai and Sushi for over 20 years as well as a partner in Sweet Octopus in Duluth.
Rickshaw's menu is inspired by Thai market favorites, including some dishes that are hard to find at other Thai restaurants in the metro area. That includes Rickshaw's Street Basil Chicken, which is made with spiced ground chicken, diced bell peppers and onions, fresh basil, rice, and topped with a fried egg. The restaurant's Pad Thai is as authentic and high-quality as any found in Thailand.
"This is not American Thai Food," assured Yuwachit. "This is an upscale setting with authentic street food ingredients, which aren't found in American-style Thai food. The cost to purchase these ingredients may be more, but it brings more flavor, too."
The restaurant will also offer Thai-inspired cocktails, beer, and wine.
Rickshaw Thai Street Food opened in October after upgrades to the kitchen area and décor of the former restaurant there, and the restaurant is currently working to turn the semi-covered rooftop patio into an all-weather seating area where guests can comfortably dine under the stars in summer and enjoy the covering and warmth even in winter.
The restaurant is open for lunch and dinner and can host private parties of up to 30 people.
Yuwachit says he is looking forward to seeing Rickshaw take its place as the latest of his enterprises to couple southeast Asian flavors with southeastern U.S. palates, but he is nowhere near stopping. Rickshaw will keep updating its menu with new offerings as his other places have done, and he plans to open another restaurant soon in downtown Lawrenceville in the near future.
This content was originally published here.